Keller Williams Cary Real Estate
Cary, NC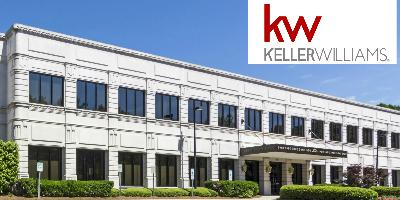 201 Shannon Oaks Circle Cary, NC 27511  919-386-9101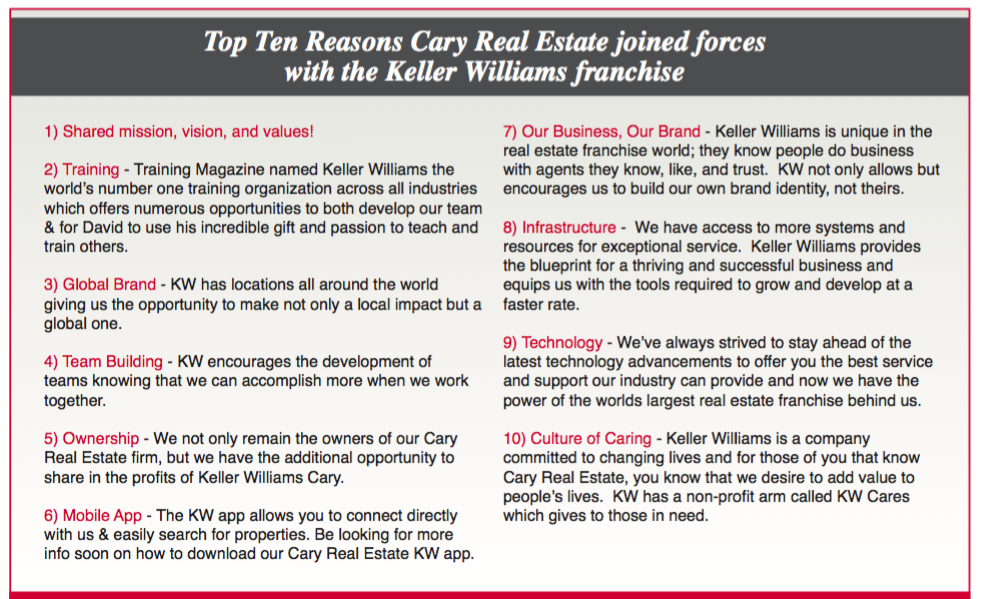 Top 10 Reasons Cary Real Estate Partners with Keller Williams Realty
Shared Mission, Vision & Values!
2) Training – Training Magazine named Keller Williams the world's number one training organization across all industries which offers numerous opportunities to both develop our team & for David to use his incredible gift and passion to teach and train others.
3) Global Brand – KW has locations all around the world giving us the opportunity to make not only a local impact but a global one.
4) Team Building – KW encourages the development of teams knowing that we can accomplish more when we work together.
5) Ownership – We not only remain the owners of our Cary Real Estate firm, but we have the additional opportunity to share in the profits of Keller Williams Cary.
6) Mobile App – The KW app allows you to connect directly with us & easily search for properties. Be looking for more info soon on how to download our Cary Real Estate KW app.
7) Our Business, Our Brand – Keller Williams is unique in the real estate franchise world; they know people do business with agents they know, like, and trust. KW not only allows but encourages us to build our own brand identity, not theirs.
8) Infrastructure – We have access to more systems and resources for exceptional service. Keller Williams provides the blueprint for a thriving and successful business and equips us with the tools required to grow and develop at a faster rate.
9) Technology – We've always strived to stay ahead of the latest technology advancements to offer you the best service and support our industry can provide and now we have the power of the worlds largest real estate franchise behind us.
10) Culture of Caring – Keller Williams is a company committed to changing lives and for those of you that know Cary Real Estate, you know that we desire to add value to people's lives. KW has a non-profit arm called KW Cares which gives to those in need.