Looking for a true quality built high end ranch home?  Here it is!  This craftsmanship built ranch home has more attention to detail than you can imagine!  Master Craftsman Seller oversaw and participated in the construction of this home.  This home is LOVED!!!   Located in Holly Springs Near intersection of Sunset Lake and Holly Springs road you get the benefit of charming Holly Springs with just a short drive to Cary's crossroads shopping center.
Double Master Home Invites  You to Entertain….The home lives on the first floor but features an upstairs loft/craft/bonus room area.
Features Summary of this Custom Home:
2,800 Sqft
Master #1 is 16 x 15
Master #2 is 16 x 14
Family Room 28 x 24 with custom rounded ceiling
Kitchen 16 x 16
Breakfast Area 13 x 10
Study 12 x 12
2 Car Garage 23.5 x 23.5
2nd Floor Loft/Bonus Area 550 sqft
Unfinished Basement Approx 33.5 x 28.5 with 873 sqft
Built in 2004
Lot Size .32 acre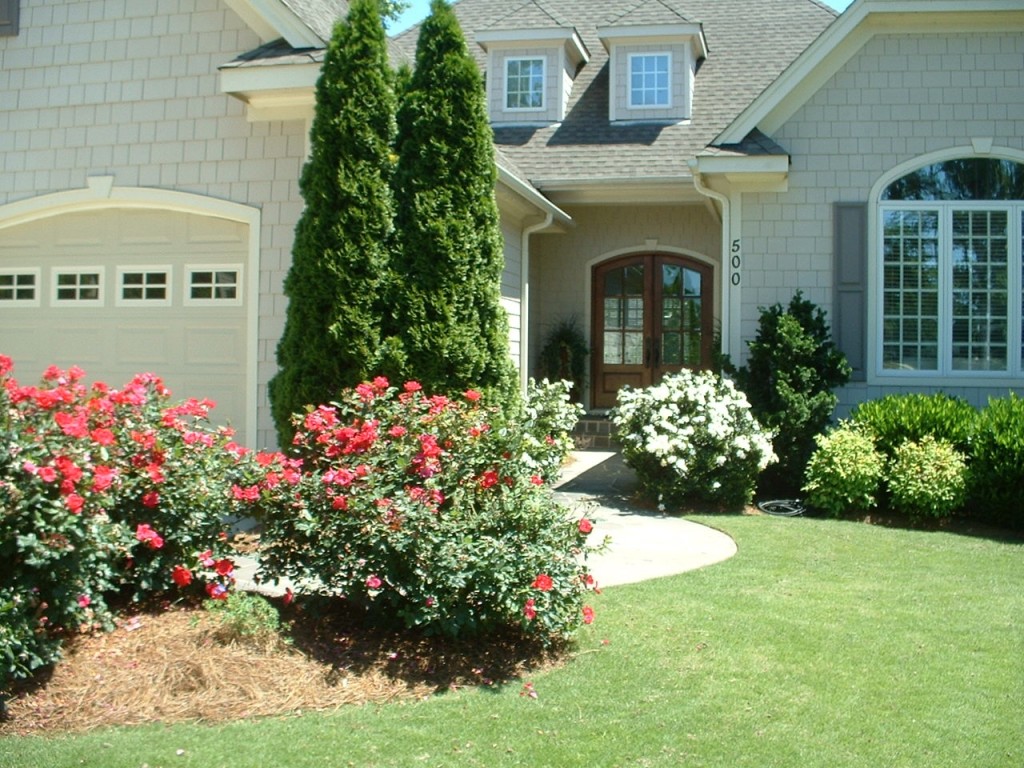 Extensive Listing of Home Features & Details:
This fully custom home was designed as a ranch that, while traditional from the outside, emphasized to its'
fullest an open plan that incorporated space usually underutilized as hallways into the living area of the house.
In addition, using traditional framing techniques and a steep pitched roofline, additional living space could also
be harvested on the second floor. Also, by taking advantage of a 10' front to rear grade change of the site, a
large full height basement could be incorporated.
The selection of materials used in the exterior of the home are concrete based products designed to minimize
long term maintenance problems. The siding and trim are Hardie shake, soffits and planks. The windows are
aluminum clad, the exterior doors are metal clad.
The exterior design of the home was complementary to the neighborhood – the interior is full of surprises.
EXTERIOR FEATURES
• Exterior is sheeted with Hardie shake, soffits and planks
• Soffit lighting around perimeter of roofline – serves as accent and security.
• Flagstone sidewalks and front porch
• Large deck w/arbor surround – for hanging plants
• Professionally designed landscape incorporating plants that perform well in this region
• Landscape designed to provide semi-privacy around back yard, deck and walkway
• Stone walkway between basement and rear deck
• Rip-rap waterway behind site directs water from neighboring houses to street
• Premium turf – Zenith Zoysia – a hardy, weed free and drought resistant grass
INTERIOR FEATURES
Quality details found throughout the house
• The ground floor base ceiling height is 9' but each room features unique ceiling details extending
certain areas to 11+ feet.
• Crown molding is used throughout the house
• Duplex recepticals are Incorporated into the 8" base molding and become invisable.
• All doorways entering into the secondary rooms (bedrooms and library) are 4'w x 8'h glass French
doors.
• Front entry door is 6'w x 8'h arched, solid mahogany w/beveled glass.
• The two stall garage is oversized to provide ample room for car doors to open fully.
• A skylighted stairway leads to a finished second floor studio/multi-purposed and two full access
unfinished storage areas above garage and at the far side of the studio.
ROOM BY ROOM
Great Room/Living Area
• Center of house front to rear
• Octagonal in shape w/secondary rooms branching off each angled wall through 8' French doors
• Raised hearth fireplace – three sided w/glass screen (gas log – ul approved for wood) Hearth and wall
tiles w/ Calcutta Gold Marble
• Lights in mantle accent fireplace and wall above
• Seating area in room defined by 11 foot high bead board barrel vaulted ceiling w/ ambient lighting
hidden behind crown molding
• Kitchen and dining areas are visible from the great room – kitchen is screened by 4' partial wall w/
marble counter cap
• Multiple light sources – fireplace up and down lighting, barrel vault indirect light, can lights at entrance.
Master bedroom 1
• Large bay window overlooking landsaped back yard
• Two step tray ceiling w/indirect lighting behind crown molding at 2
nd level (11'high)
Master bath 1
• Custom 8' twin sink cabinet w/full 6 drawer cabinet storage
• Oversized shower – full glass surround and marble tile walls
• Walk-in French door closet
• Ceiling height 10'
• Crown molding throughout
• Multiple lighting sources – ceiling can lights over sinks, wall sconces ambient lighting above closet wall
Master bedroom 2
• Room entry into gallery area
• Bedroom ceiling – 14' cathedral
• Large arched 3 casement window
• Two closets w/French doors
• Multiple lighting sources – ambient lighting over closets and window seating area, recessed can lighting
in window seating area, spot lighting in gallery
Master bath 2
• Full custom shower – 1"hex tile floor, subway tile walls, half wall with glass top and bead board siding
below
• Portrait pedestal sink w/custom corner mirror behind
• Multiple lighting sources – ceiling can light over sink, wall sonces, lighting in shower
Library
• Full wall of custom library shelving (shelf capacity 500 books). Base cabinets under shelving w/lateral
pull out drawers for paper filing and storage
• Ceiling height – 10' w/ceiling fan
• Solid rosewood flooring
• Multiple lighting sources – ambient lighting over book shelves, down light wash on books, ceiling fan
Kitchen
• Viking Professional 6 burner range
• Full custom cabinets
• Large Blanco single bowl stainless sink – 10" dp w/base strainer
• Commercial sink faucet with pulldown sprayer
• Calcutta Gold Marble tile counter tops
• Back splash – subway tile
• Multiple lighting options – ov'hd can task lighting, ambient lighting over cabinets, under cabinet task
lighting, decorative lighting over pass through counter between dining area
• All recepticals are hidden under overhead cabinets keeping backsplash clean and clear
Dining area
• Windows on 3 sides of area
• Two step tray ceiling (11') w/downlighting for illuminating table
• Collectable display cases installed in wall under pass through – glass doors and shelves – lighted
Kitchen/dining notes: All floors are 12 x 12 tile and continues through laundry area to garage entry door.
Second floor
• Finished – two level studio space
• Bead board ceiling
• Separate HVAC system from main home system
• Carpeted
• Track lighting – upper level
• French door entry at top of stairs
Basement
This space served as wood working shop for current owner
• Ceiling height – 9'
• 3" concrete slab
• Separate breaker panel
• Lit with 10 4' fluorescent ceiling fixtures
• Built-in workbench w/storage and pegboard tool organizer
• Three casement windows provide light and ventilation
• Double door entry (5') Steel and glass
• Entrance covered w/ arbor
Remaining space inner space under house is crawl space accessable from basement – contains house
mechanical systems
Note: This space served as owners workshop but is finishable space.