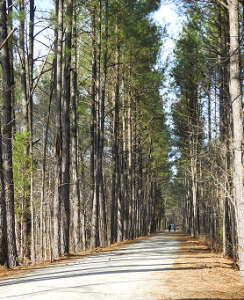 Cary, NC has added another national designation to its long lists of awards – Cary has been deemed 'Walk Friendly' by Walk Friendly Communities, a national recognition program recognizing communities working to improve a wide range of conditions related to walking, including safety, mobility, access, and comfort.
When I first saw the news about Cary being 'walk friendly' I paused….mainly because I'm used to seeing walkscore ratings – walkscore is a service used to rate how convenient it is to walk from a given house to parks,restaurants, employment etc – and while Cary is a great place to live it's a town where the average resident gets in their car to drive to work or eat etc.
Turns out that walking from your house to a restaurant is not the type of walk friendly environment they were assessing.  Cary earned the recognition for excelling at providing  walking trails between communities, parks, schools called the Cary Greenway System.
When was the last time you checked out one of Cary's greenway trails?
[gview file="http://caryrealestate.com/wp-content/uploads/2011/10/cary-bike-hike-map.pdf" height="1000″ width="600″]