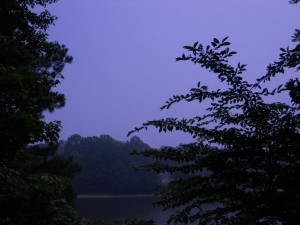 The Town of Cary is enveloped in smoke from North Carolina wildfires today, it looks like a thick fog but one step outside tells you something's burning! So what is on fire in Cary? Where is all the smoke coming from – can you believe it's the wildfires in other parts of North Carolina! All of the smoke in Cary today has triggered lots of calls into the Cary 911 system – in fact the Town of Cary has released the following press release:
WIND BLOWS IN SMOKE FROM WILDFIRES IN PENDER, DARE COUNTIES
The haze and smell of smoke Cary residents are experiencing is the result of fires outside of the Town, including wildfires in Pender and Dare counties and a controlled burn at Fort Bragg. While citizens are encouraged to call 911 if they see smoke or flames coming directly from a structure, vehicle or wooded area, please use care before calling 911 about smoke in the area. The Town of Cary's Communications Center (911) has received a large volume of calls due to the wildfires.