What is the American Tobacco Trail?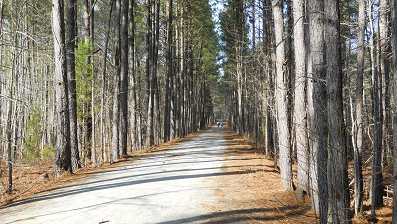 It's 22 miles of trails running from Cary to Durham – the trails are built over an old abandoned rail road track that dates back to the early 1900's.    The American Tobacco Trail's almost perfectly flat – which makes sense when you think of it being where a railroad track used to be – along the trail you will find yourself in tunnels, under highways & on bridges.
The trail is open to walking / running / hiking / bicycle riding and horse back.
One of the American Tobacco Trail public access points is in Cary – on White Oak Church Road – this site which is right around the corner from Cary's upscale Copperleaf Community, has restrooms and ample parking.  If you haven't explored the American Tobacco Trail you're missing out – it's incredible to think you can start out in Cary and ride your bike 20 plus miles and end up at the Durham Bulls Athletic Park!    A special thank you to the Triangle Rails to Trails Conservatory Organization for their hard work making this dream become a reality – we are truly blessed here in the Cary area with the wonderful parks & trails!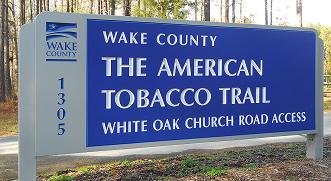 View American Tobacco Trail / White Oak Park on Google Map
Thanks for Reading our Cary Real Estate Blog. Post Authored By: David Williams